Discussion Starter
·
#1
·
This is my same post as on Avery,
This weekend, I went on my very last youth duck hunt, after this I start when everyone else gets to start. The night before hunting, after sitting around and blowing calls, and trying to decide where were going to go hunting. My dad came home with some gloomy news. While my buddies and I were at school, he was out scouting and trying to get permission on a pond that we could hunt. He came home and said he hadn't been able to find anyone at home, and we were going to have to hunt a public hunting lake. The thought of that lingered in our minds. This lake is very high traffic lake, and with grouse opener the same day we assumed it would be a mad house around the lake on even on it with boat traffic. It was are only choice and when we were just about all to head to bed my grandpa called. I answered the phone and he gave me awesome news, the pond my dad had been trying to get permission on, was actually a pond that we already had permission on for goose hunting, and after a short talk over the phone with the landowner my grandpa said that he didn't care if we hunted for ducks either. This brought all new excitement and we couldn't wait to hunt the next morning. The morning came early, waking up at 3:45 am. With the decoys loaded the night before it didn't take long to get rolling and after about an hour drive we arrived at the pond we were going to hunt. We set up, and got the blinds ready. At first light a flock came of wigeons came in, and after the smoke settled we had dropped 4. Not the best shooting in the world. After that small pairs and flocks of around 3 came in and we did our best to take them down. We ended day 1 with 11, 4 short of a limit and an awesome hunt in my eyes.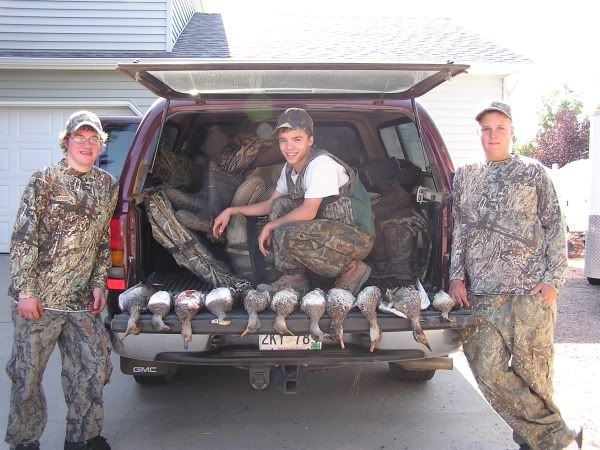 Day 2: We decided to hunt the same pond, being that we knew were the ducks wanted to more on it and already had the blinds stubbled with the grass and weeds from the day before. After setting up and stubbling the blinds a little more. We settled in, not long after we got done 2 mallards came into the decoys and we dropped both of them. After retrieving them, and running after one that kept diving. We finally were ready, out of no where a wigeon came in and without saying much I pulled up and folded it. The next duck that came in, came in while I was out getting the wigeon and my friend Audie dropped it behind the blinds. It was his first, and all of our first pintail even though it was only a hen we were still pretty pumped. The next flock came in and we dropped 4 which were all gadwalls. We picked up and headed home. Satisfied after a good days hunt.